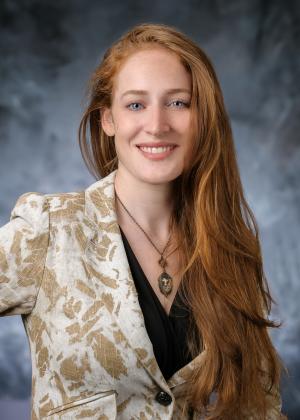 Specialization
:
Structurally Dynamic Biomaterials
Peptides & Sequence-controlled Polymers
Bio-inspired Chemistry & Physics
Assembly & Nanochemistry
Materials Chemistry
Soft Matter Fabrication and Characterization
Bioelectronics & Wearable Devices
Biomedical Sciences
Tissue Engineering
Education
:
Andrea completed her B.S. in Chemistry (2012) and B.S. in Biological Sciences (2012) at Virginia Tech. She continued to pursue both an M.S. (2014) and Ph.D. (2018) in Chemistry & Biochemistry at the University of California San Diego under the guidance of Prof. Nathan C. Gianneschi. Her doctoral thesis work on "Dynamic Biosynthetic Polymers for Myocardial Tissue Engineering" was supported by an NSF GRFP Fellowship. In 2019, she joined Prof. John A. Rogers' research group as a Postdoctoral Scholar in the Querrey Simpson Institute for Bioelectronics (QSIB). Her research involved the development of wearable thermal flow sensors, conductive elastomers, and microfluidic devices. Andrea joined the faculty as an Assistant Professor of Materials in the Department of Chemistry & Biochemistry at the University of California Santa Barbara in 2022.
Research
:
CARLINI GROUP: Structurally Dynamic Biomaterials and Devices
The Carlini Group focuses on breaking down barriers between endogenous biochemical signals and exogenous soft materials for the fabrication of smart devices. We aim to revisit biomedical problems that remain shockingly unsolved, by integrating structurally dynamic chemistries and biomaterials into autonomous sense-response-feedback platforms. Our interdisciplinary work can be broken down into three research areas:
Synthesis of stimuli-responsive moieties and macromonomers for sensing and response to endogenous signals in disease and injury.
Control of shape-changing peptides and polymers at the molecular, macromolecular, and/or higher order level. Notably, introduction of 4D behavior into previously inert materials.
Fabrication of soft, flexible platforms that provide quantitative feedback for disease surveillance and treatment.
Ultimately, we envision that continuous, non-invasive, and local assessment of disease progression and therapeutic treatments can mitigate the need for costly doctors' visits. As a part of the UC Santa Barbara community, this interdisciplinary program engages creative, collaborative, and open-minded research throughout the campus.
Publications
:
Carlini, A.S.,* Choi, W., McCallum, N.C., and Gianneschi, N.C.*, "pH-Responsive Charge-Conversional Progelator Peptides.", Advanced Functional Materials, 2021, 31(13), 2007733. * co-corresponding author
Carlini, A.S.,† Cassidy, M.F.,† and Gianneschi, N.C.*, "Hydrogel Formation with Enzyme-Responsive Cyclic Peptides". In Peptide Macrocycles, 1 ed., Coppock M.B. and Winton, A.J. (eds). Methods in Molecular Biology, Springer US, 2022, 2371, 427-448. † co-first author
Touve, M.A.,† Carlini, A.S.,† and Gianneschi, N.C.*, "Self-assembling peptides imaged by correlated liquid cell transmission electron microscopy and MALDI-imaging mass spectrometry.", Nature Communications, 2019, 10, 4837. † co-first author
Carlini, A.S., Touve, M.A., Caro, H.F., and Gianneschi, N.C.*, "UV-responsive cyclic peptide progelator bioinks.", Faraday Discussion, 2019, 219, 44-57.
Carlini, A.S., Gaetani, R., Braden, R.L., Luo, C., Christman, K.L. and Gianneschi, N.C.*, "Enzyme-Responsive Progelator Cyclic Peptides for Minimally Invasive Delivery to the Heart Post-Myocardial Infarction.", Nature Communications, 2019, 10, 1735.
Carlini, A.S., Adamiak, L., and Gianneschi, N.C.*, "Biosynthetic Polymers as Functional Materials." Macromolecules; 2016, 49(12), 4379-4674.
Nguyen, M.M.,† Carlini, A.S.,† Chien, M.-P., Sonnenberg, S., Luo, C., Braden, R.L., Osborn, K.G., Li, Y., Gianneschi, N.C.*, and Christman, K.L.*, "Enzyme-Responsive Nanoparticles for Targeted Accumulation and Prolonged Retention in Heart Tissue after Myocardial Infarction." Advanced Materials, 2015, 27(37), 5547-5552. † co-first author